Check out Nickel City Club Co Private Lounge and Nickel City Cigars Humidor!
Our Humidor
Come in and check out our humidor for all your Boutique needs!
Find the Perfect Pairing
Pull up a seat and find the perfect companion to your cigar.  Nickel City Club is a non-profit, private Member Club (stop in and join today), with a full bar. Or sample a cold cream soda or a smooth cup of our Tipico Coffee Nitro Cold Brew fresh off the tap!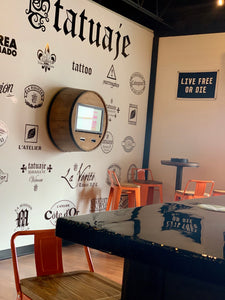 You pick the tunes
After you grab your favorite cigar, check out the TouchTunes and pick your favorite songs while you relax.
Are you the competitive type?
Grab one of your friends and demolish them in a game of bubble hockey.  Check out the other arcade machines! We have Teenage Mutant Ninja Turtles, Off-Road, Ms. Pacman and Street Fighter. Beat the High Score and win a free cigar chosen by the owner.